Marc Destrubé enjoys a diverse international
career on historical and modern violins,
performing as soloist, chamber musician,
concertmaster or director/conductor.
He is co-concertmaster of the Orchestra of the
18th Century (Amsterdam), first violinist of the
Axelrod String Quartet (Smithsonian Institution, Washington, DC) and of the Vancouver quartet Microcosmos, and is a regular guest director and soloist with the Australian Brandenburg Orchestra, the Australian Haydn Ensemble and Lyra Baroque Orchestra. In Vancouver he has been director of the Pacific Baroque Orchestra, concertmaster of the CBC Radio Orchestra and first violinist with the Purcell String Quartet. He performs regularly for Early Music Vancouver, is Artistic Director of the Pacific Baroque Festival (Victoria), a member of the Turning Point Ensemble, and concertmaster of the Oregon Bach Festival Baroque Orchestra. His recording of Haydn violin concertos (ATMA) has been critically acclaimed, and he has commissioned and premiered numerous works by Canadian composers. A highly-respected teacher, he has been a visiting artist at the Paris, Utrecht and Moscow Conservatories, the Banff Centre, University of Indiana, Case Western University, UVic, UBC and VCC. He is on the faculty of the Berwick Academy at the Oregon Bach Festival and course co-director of the Twin Cities Baroque Instrumental Programme. http://marcdestrube.com
Natalie Mackie studied cello at the Conservatoire
de Musique (Québec), followed by a degree from
the School of Music, University of British Columbia.
While at UBC she was introduced to the viola da
gamba, and following graduation, she pursued
further studies at the Koninklijk Conservatorium
in The Hague. Natalie has played with many
ensembles in Canada and the US, including New
World Consort, Les Coucous Bénévoles, Tafelmusik,
Portland, and Seattle Baroque Orchestras, Les Voix Humaines, Tempo Rubato, Les Voix Baroque, Oregon Bach Festival Orchestra, Victoria Baroque, and Vancouver Intercultural Orchestra among others. Natalie is a member of Pacific Baroque Orchestra and the chamber ensemble "La Modestine"- both Vancouver-based ensembles. She has toured throughout Canada, Europe, and the US and recorded for Radio France, German Radio, BBC, CBC, and NPR, as well as the Canadian label Atma Classique. Natalie is a regular performer in the Pacific Baroque Festival, held annually in Victoria, BC, and teaches in the Baroque Orchestra Mentorship Program at the University of British Columbia.
Marco Vitale was born in Palermo, Italy. After finishing studies in his hometown, he attended the Royal Conservatoire in The Hague where he studied harpsichord with Ton Koopman and organ with Jos van der Kooy, graduating with a master's degree in Early Music. Throughout his career Marco has performed at the most prestigious venues and festivals throughout Europe, the USA, Canada, South America, the Middle East and Asia. From 2008-2011 Marco Vitale worked at the Higher Institute of Music in Damascus, Syria, where he taught early music performance practice and performed concerts together with Syrian musicians.
He is the co-founder and musical director of Contrasto Armonico, an ensemble specializing in Baroque operas and the performance of music in the Italian style, using period instruments and historically informed performance practices. In 2012 he founded his own record label ayros, and is currently involved in recording the Complete Italian Cantatas by Handel, a thrilling project that will bring to light many undiscovered jewels of Handel's which have yet to be either edited or recorded. Marco has appeared on several radio and TV broadcasts, including the specialized music channel Mezzo.tv. In addition to ayros, he has recorded for Alia Vox, Naïve, and Brilliant Classics.
Marco has a truly international reputation as a harpsichordist and teacher of baroque music performance and he continues to tour with Jordi Savall's ensembles Le Concert des Nations & Hespèrion XXI. He is the artistic director of the Arcadia Early Music Academy workshop in Poland and teaches at La Pellegrina summer school in the Czech Republic. He gives masterclasses, lectures and workshops at the Fryderyk Chopin University of Music in Warsaw, Fondazione Paolo Grassi in Martina Franca (Italy), ESMUC in Barcelona, the Higher Institute of Music in Damascus, the University of Southern California in Los Angeles and the University of Victoria in BC.
Since Marco first came to Vancouver Island in 2017, he has directed the Denman Baroque Festival and Workshop; the Salt Spring Baroque Music Society; become Director of Music at Saint Barnabas Church in Victoria and, most recently, was appointed Music Director of the CapriCCio Vocal Ensemble.
His debut, in the summer of 2022, as a conductor for the Victoria Symphony, saw him leading from the harpsichord in Bach's Brandenburg Concertos and orchestral suites by Rameau and Handel.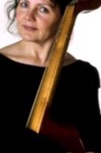 La Modestine is a chamber music ensemble formed in 2016 by fine west coast musicians with a love of playing music of the 17th and 18th centuries together. The members bring a wealth of international experience to playing this enchanting repertoire on period instruments.
LA MODESTINE
Music before 1750